September 2015 More Stable Changes - Jaguar XF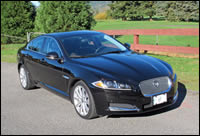 This newest car came from the Seattle Jaguar dealership and has turned out to be the compromise I had been looking for between the two previous models I had owned, (XKR Coupe and Vanden Plas). Dignity with speed, an updated motto of 'Grace, Space and Pace', that famous Jaguar slogan. The V6 engine with supercharger is the perfect combination for speed and moderate fuel consumption, (Jaguar make two other engine sizes, neither of which appealed to me). The interior is comfortable, the features extensive and readily accessible.While it would have been nice to have all wheel drive, I nevertheless like this car!
September 2012 Michael Powley
So sad to report that my friend for ovet thirty years, 'Motoring Mouth', Mike Powley recently passed away. I was at least, grateful to have been able to see him in his last few days. RIP.
June 2012 Jaguar 'Alive' Event
In June, Jaguar USA invited me to participate in their 'Jaguar Alive' Experience at Emerald Downs near Auburn, WA. My 'extreme acceleration' course can be seen here. Great fun!

June to September 2012 Jaguar Stable Changes
I decided to rejuvenate our motoring stable this year, so now all our previous cars have been replaced. The Jaguar XKR went to Norway and was replaced with a Jaguar XK8 convertible. The XJ6 replaced with a Jaguar Vanden Plas and my beloved E-type was sold after twenty six years to a collector in San Francisco.
September 16 - 18 2011 Goodwood Revival
Goodwood, Hampshire, England, Home of the Earl of March and Kinrara.Three days of reasonable weather, fabulous vintage and classic international sports cars racing on a famous circuit. An Air Disply including 19 WW II Spitfires, Celebrating the eighty second birthday of Sterling Moss and also Fifty Years of the 'E'-type. This was my second trip to this memorable event. See more details here

Sunday, August 22, 2010
"Sunday at the Depot". Great third annual European Car Show organized by NW European Autoworks in Bellingham. Eighty six beautiful cars on show - very humbled that my E-type took 'Best of Show'.
Sunday, February 21, 2010
SOVREN, (Society of Vintage Racing Enthusiasts) Rivers Edge Event 2008 at Mission Raceway, BC. Gunther Pichler, (1964 E-type Coupe) races against my friend Roger Flescher, (1966 Sunbeam Tiger) in VRC competition. Gunther takes last pole position so he can produce this great VIDEO of the race.
Weekend, August 15/16, 2009
The Canadian XK Jaguar Register and Canadian Classic MG Club of Vancouver held their 40th Anniversary Weekend Event which we were delighted to attend. We caught up with lots of old friends and generally had a fun experience. My buddy "Motoring Mouth" Mike Powley, was as usual, in great form. Since he couldn't drive two cars to the Saturday picnic, he brought a model of his 'X' type displayed on a table top and set amongst all the other 'real' cars. What a hoot!
Friday, July 31, 2009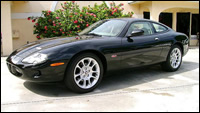 Hello, XKR Coupe. After a long search, I eventually found the exact model I wanted about as far away as geographically possible - West Palm Beach, FL. I don't like long distance purchases, but I had this one fully checked out mechanically, then had it shipped across country. A few cosmetics were required but overall, I'm satisfied and it drives beautifully - supercharged!
Friday, July 17, 2009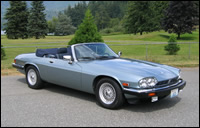 Goodbye, XJS Convertible. Today I sold the XJS Convertible to a Jaguar aficionado from British Columbia, Canada. Sorry to see it go but I just wasn't using it regularly and that's not good for a twelve cylinder, 5.3 liter Jag. I saw it soon after at the Heritage 40th Anniversary Weekend event and it was great to see how well the new owner is caring for it
Tuesday, September 2, 2008
My friend, the well known E-type Forum raconteur and erstwhile diarist, Chuck Goolsbee set off on a remarkable motoring adventure with Sun Ralley 2008 as his destination. Full details of his travels can be seen here. Chuck has my fullest admiration for driving and enjoying his E-type like no-one else I know!
Saturday, August 10, 2008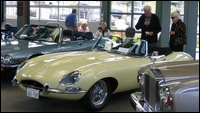 The Depot Market European Car Show in Bellingham brought out a record number of cars and visitors for its' second year. I was really pleased to see my friend Holly Hollenbeck's lovely Primrose Series One E-type OTS voted "Best of British" this time around. Holly can be seen in the background,with our XJS Convertible to their right.
Sunday, May 25, 2008
The Boulevard Park Car Show, mainly planned for American vintage cars, was bursting at the seams this year, including a very strong showing in the European Car section. Several latecomers had to be turned away, so I'm suspecting that some revised vintage qualifications will have to be put in place for 2009.
Saturday, May 17, 2008
The Van Dusen Gardens ABFM in Vancouver was full of cars and visitors this year. Almost 600 cars all told, with twenty two beautiful E-types in our class on the field. Next year will celebrate our 20th year of attendance at the Van Dusen ABFM. With so much going on and a late starting awards ceremony, we decided to beat the crowds out of the gardens, so didn't wait around. That was a pity because I learned later that day from Patrick Stewart, my good friend and long time organizer of the event, that we won 'Best in Class'!
Sunday, August 5, 2007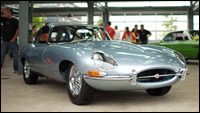 On July 29 the first ever European Car Show was held at the renovated Depot Market in downtown Bellingham. It was organized by Ron Ager who owns NW European Autoworks and was a great success with over seventy classic European cars filling every space in this beautiful old building. Go to JagWar Stories © for more details and how the e-Type attracted much attention.
Saturday, January 6, 2007
My friend for over thirty years, 'Motoring Mouth' Mike Powley has just produced his new web site: http://www.motoringmouth.ca Mike is well known in the Pacific Northwest as the designated MC for awards ceremonies at sundry and various All British Field Meets. His witty and sometimes acerbic one liners, usually directed at some unfortunate and suprised winning entrant always adds to the fun of the event. The site is quite ecletic from a motoring point of view, including Jaguar and Morgan references and worth a visit.
Sunday, May 28, 2006
Adieu to the XK 150 Coupe: Yesterday evening at the end of one week's bidding on eBay, the XK 150 was sold to a Jaguar enthusiast in New Zealand. The restoration process will continue with a new owner in a new country. Who says Jaguars can't go long distances!
Saturday, May 20, 2006
The Van Dusen Gardens ABFM in Vancouver was full of cars and visitors as usual this year and the sun actually came out after lunch. We saw lots of old friends and the E-type got its' first good run of the spring season.
Sunday, October 23, 2005
Goodwood, Hampshire, England, 16th to 18th September 2005. Home of the Earl of March and Kinrara. Three days of glorious weather, fabulous vintage and classic sports cars on a famous circuit. Click here for more details and photos.
Wednesday, July 6, 2005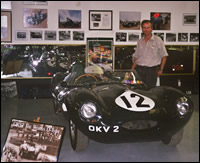 A couple weeks ago I had the pleasure of visiting with Terry Larson and viewing his immaculate restoration facility as well as his beautiful private collection of classic Jaguars and motorcycles. Aside from the 1954 Works D-Type, (OKV 2), shown here, was the fabulous XKC 017 which Terry still races regularly. Naturally there were several XKs and E-Types as well as a host of other interesting Jaguar memorabilia, including Sir William Lyons' own 1924 SS80 Brough Superior motorcycle, but especially rare was Terry's SS90.
Friday, July 1, 2005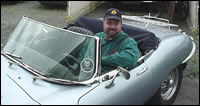 'The Great Goolsbee' (Acknowledgements to the late F.Scott Fitzgerald). The well known E-Type Forum raconteur, Chuck Goolsbee is seen here reunited with his beloved '65 E' today after extensive engine work was completed just in time for the Fourth of July weekend. Judging by the big smile, Sir William's sixth symphony sound under the bonnet has returned to acceptability. Happy Fourth, Chuck!
Saturday, June 11, 2005
The Tuesday Car Club is an idea introduced by my friend, Dale Rings which he brought with him from Minnesota. We meet for lunch at a local restaurant. There is no club organization ... just turn up if you wish and talk about your favorite subject with like minded guys. Not just Jags mind you, but BMWs and even a racing Sunbeam Tiger are the subjects of animated discussion! We already have on average, six to eight attendees each Tuesday with a wide spectrum of motoring experience and some great stories.
Wednesday, June 1, 2005
The Boulevard Park Car Show on the Bellingham Bay waterfront had record numbers of classic cars last Sunday. As I've mentioned before, although this is primarily an AARC event, there have been an increasing number of British and European entrants in a special section of the Park. We had great weather and large crowds who not only came to see the cars but also see the final leg (sea kayaks) of the 'Ski to Sea' Race which is a traditional event each Memorial Day weekend. My heretofore exclusive E-Type appearances ceased with the inclusion of a primrose S1 3.8 OTS this year whose owner, Holly Hollenbeck, a recent Californian transplant, also happens to be CJA's SS 100 Registrar.
Sunday, May 22, 2005
This year we made it to the Van Dusen Gardens ABFM in Vancouver. As usual it was cold and damp, which did not stop a record turnout, including first time entrants. Also as usual, our friends Patrick and Joan Stewart put on a good show for everyone. This was the twentieth anniversary of this particular ABFM and they provided a commerative grille badge for the occasion.
Friday, May 20, 2005
I have accepted an invitation from Philip and Julie Porter to represent them in the Pacific Northwest for both the International Jaguar XK Club and also for the Jaguar E-Type Club. The XK Club has been in existence since 1997 and now has over 1200 members in 40 countries, a forty page monthly magazine and a wide range of events around the globe. The E-Type Club is a relatively recent introduction to meet the needs of specific E-Type , (or 'XKE', as we sometimes call the marque), owners or potential owners. As you know, Philip has worldwide recognition as the leading writer of Jaguar, especially E-Type literature and reference books. If you live in the Pacific Northwest and want to learn more, please email me at info@brucemaccormack.com.
Sunday, March 20, 2005

I'm off to 'Glorious Goodwood' in September for the Goodwood Revival. Lots of great fifties and sixties cars and wonderful memories brought back to life once again. The real shame for me is that alas, there can be no more visits to Browns Lane on this UK trip.
---
Sunday, September 12, 2004
All my posts seem to be on Sundays this year! This time it was the Hougan Park Picnic in Abbotsford, BC and we took the XJS Convertible. We were not so lucky with the weather this time as it rained on and off all day long. Luckily we were parked next to a family who had one of those awning things and invited us to take cover with them. Nice people!
Sunday, August 15, 2004
Who is this guy and just what is he doing here? Read all about the All British Softball Picnic recently held at Sudden Valley, in JagWar Stories
Sunday, June 27, 2004
This season started off pretty rainy and we are becoming fair weather visitors to local shows, so we missed both Van Dusen Gardens and Boulevard Park this year. However we did go to the Bellingham Air Show which had some really nice American and British Classic Cars parked amongst the Airplanes. Very nice weather and lots of visitors. We took the E-Type and I was asked to talk about the car a little bit on the public address system during one of the flying intermissions. Overall - a great day out.
Wednesday, April 7, 2004
I am expecting to start this year with potentially more entries in my Blog. Also, I'm planning to get back into action this season: participate in a few shows and start work on my new XK 150 project. Not much to tell you about the latter as yet, except that it will be a long, slow and carefully budgeted process! I'll set up separate pages in due course, similar to the 'Ravensbourne Project' but with lots more photos. This time I'll increase the use of thumbnails so you can click on to some larger size pictures.
P.S. I've moved away from the regular 'Blogger' format to my preferred style of entering posts, so you will notice some editing differences from last year.
---
It was great to hear from Stephan Perthes in Germany recently. Stephan does some great website work, particularly related to Jaguar E-Types. One of the most fun sections of his site is that dedicated to strange E-Type license plates from around the world: http://www.e-type-online.de/license/index.htm Take a look around the rest of his site too, it's well worth it
posted by Bruce | 1:04 PM

Tuesday, July 22, 2003
Minter Gardens Concours, B.C. 20 July. A sunny, warm day in a beautiful park setting with flowers in full bloom all around. Domestic and Import cars carefully parked on the grassy areas and about five thousand visitors made it a splendid day out. This time we took the E-Type and shared a small area with two Morgans and a bugeye Sprite.

The organizers roped off the cars which I thought was a pity because visitors could not get close enough to the cars for a proper look. Apparently the Gardens did not want all and sundry walking over their grass, rather than concern about damage to the cars! The only thing that marred the day was some pathetic individual who set up near us with his trailered car and spent the whole day preening himself and his car, almost begging visitors to stop and view his prized possession. The rest of us chatted with each other and the visitors, walked around the gardens and generally had a fun time together. Don't understand these individuals who can't just relax and enjoy the day. It turned out not to be a formally judged event after all but an 'owner's choice' type process which is always questionable, but we're not arguing with second place.
posted by Bruce | 8:30 AM
The Vancouver ABFM was damp and cold, but there was a surprising turnout of cars including the Jaguars. We took the XJ-S convertible. The sun did peek out eventually later in the afternoon and we even drove back to Bellingham with the top down!. It was good to see so many friends after such a while.

Memorial weekend in Bellingham is the 'Ski to Sea' Race with many corporate and local teams competing with various sections such as skiing, biking and kayaking. Included in the weekend festivities is a parade through town on Saturday and an Antique Car Show on the Sunday in oceanside Boulevard Park. The show is mainly old American cars, but there is an increasingly significant 'Foreign Car' group. Our local Mount Baker MG Club always has a good representation and this Sunday was no exception. A lovely day, quite sunny and warm with the culmination of the 'Ski to Sea' race as the final leg, the kayakers, sped across Bellingham Bay to the finish right in front of us. It was a great day and the friendly visitors made it all the better. Patricia had no problem with the top down on her MGB on this occasion as we set off on the short trip home.
posted by Bruce | 7:44 AM
The previous 'Anecdotes' page on the Jaguar Connection web site has now been transferred to "JagWar Stories" ©.
posted by Bruce | 3:45 PM
We will get back to the mainland just in time for the Vancouver All British Field Meet on 17 May. This is the first ABFM of the season and is for classic British automobiles of all makes. Over six hundred cars will attend from as far as Portland, OR. Not so far for us from Bellingham, WA so we will leave early in the morning rather than overnighting. The cars park carefully on the grass in the beautiful Van Dusen Botanical Gardens in Vancouver, BC amongst the Spring blooms. More than six thousand classic car aficionados will stroll around the cars during the day, chat with the owners and take hundreds of photos. What a great opportunity for us to catch up with all our friends and acquaintances after seven months in Hawaii. Got to get some pictures for the blog.
posted by Bruce | 11:42 AM
Welcome to my new Jaguar Blog

I'm planning to experiment with several facets of this new weblog addition to my site over the next couple of months.
Bruce


This Blog is listed at blogwise

---